EVENTS
As a nonprofit organization, Josephine's Place could not bring the classes, programs, and workshops to our women without the generosity and financial support of our donors, sponsors, and friends. We conduct three major fundraisers annually.
November 9, 2023 – Fall Celebration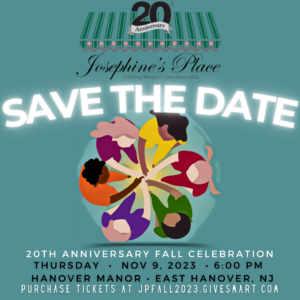 We celebrate our women, volunteers and honorees at an annual gala which also features our popular travel, basket and 50/50 raffles. Advertising and sponsorships available.
Annual Appeal 2023
Held each year during Women's History Month, our Annual Appeal is an outreach campaign that enables us to continue making a positive impact on the lives and futures of our women.
Golf Outing
Spring is a wonderful time to get together on the golf course and celebrate Josephine's Place! This event features brunch, 18-rounds of golf, and a cocktail reception followed by dinner at the scenic Cedar Hill Golf & Country Club, Livingston, NJ. Sponsorship opportunities available.